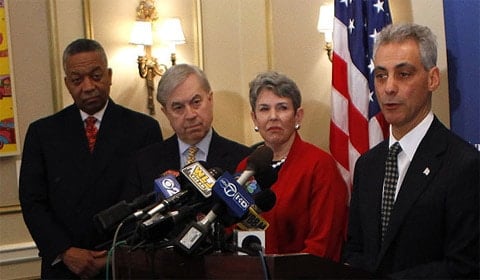 Chicago Mayor-elect Rahm Emanuel has selected his transition team and it includes no gay people, which LGBT rights groups noted but said did not trouble them. What did trouble them, however, was the inclusion of Rev. Byron Brazier, pastor of the Apostolic Church of God.
Bernard Cherkasov, chief executive director of Equality Illinois, indicated the lack of LGBT representation in Emanuel's transition team should not be a cause for alarm for the community. His organization's PAC joined a large coalition of LGBT community leaders in endorsing Emanuel's mayoral campaign last month.
"We look forward to working with the team of co-chairs to help identify the priorities for the city of Chicago, including the priorities of the LGBT community, and figure out a path to addressing them as soon as the mayor is in office," Cherkasov said.
Brazier's presence on the transition team is an eyebrow-raising choice, however. Brazier's father and the previous pastor of the Apostolic Church of God, the late Bishop Arthur, supported the Federal Marriage Amendment. Additionally, the church is affiliated with the Pentecostal movement, which generally condemns homosexuality as sinful. At press time, Brazier had not return Windy City Times' request for an interview.
Rev. Irene Monroe, coordinator of the African American Roundtable of the Center for Lesbian and Gay Studies in Religion and Ministry at the Pacific School of Religion, said Emanuel's selection of Brazier while not including any LGBT co-chairs was an intentional, and troubling, choice.
"It is a great concern," Monroe said. "Why that particular church when there are so many progressive churches he can choose from?
Monroe added that the inclusion of Brazier reminded her of Obama's inclusion of anti-gay leaders in his team: "I think what bothers me most about that is that progressives like Rahm and Obama don't mind taking LGBT money for their campaigns and don't mind our vote, but when it comes to full-throated advocacy, they invariably either let us down or leave us waiting like this time is never the right time for them to hit these particular issues."