A patron at the Raindbow Lounge in Fort Worth who suffered brain injuries during an outrageous raid of the bar in 2009 has agreed to settle his lawsuit against the city for $400,000. According to The Star-Telegram, the amount to offered to Chad Gibson must be be approved by the City Council on Tuesday.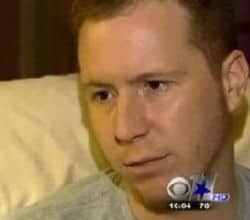 "'In light of the circumstances, city staff believes proceeding with this settlement is the right thing to do, not only to bring closure to those involved but also to prevent lengthy and even more costly litigation,' Jason Lamers, a city spokesman, said Friday."
"Lamers said the city has also agreed to pay $40,000 to another patron, George Armstrong, who said he suffered a torn rotator cuff during his arrest for public intoxication at the bar. Because the settlement is for under $50,000, council authorization is not needed, he said. Don Tittle, the civil attorney for Gibson and Armstrong, said all parties have worked together for months to reach a resolution without a lawsuit."
After the raid, Gibson and three other patrons had been charged with public intoxication. It took the city more than a year to drop charges for all four.
Wacth a news clip from WFAA, AFTER THE JUMP.