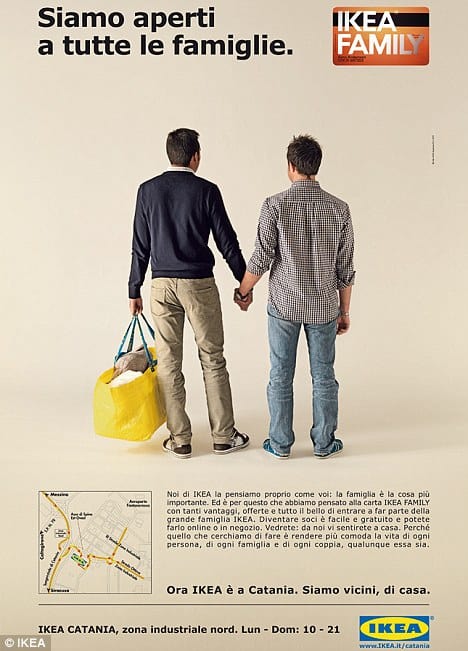 Ikea has released a cute, pro-gay ad in Italy that reads: "We are open to all families. With us you will feel at home. What we want to do is make life easier for everyone, every family, every couple, whoever they are."
The ad, which is currently only being displayed on billboards in Catania, Sicily, has prompted the Silvio Berlusconi-owned newspaper, Il Giornale, to go on the attack. Gay rights advocates, however, are praising Ikea's accepting attitude.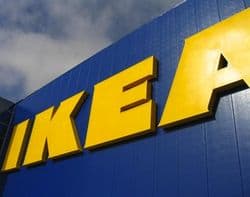 The Daily Mail reports:
"Il Giornale has labelled it as 'provocative' and added: 'What's behind all this? It's not awareness of gay rights for gay couples. It's just a brazen marketing strategy.'"
"The paper went on to say that it was ''not an isolated incident'' but a clear attempt at ''Swedish Imperialism'' that tried to make everyone equal by having the same ''cheap furniture.''"
"Il Giornale added: 'One has to ask what is the point of such a campaign by IKEA in Catania – it's obvious that they are just trying to get themselves talked about.'  Berlusconi and his ruling People of Freedom Party have long championed family values and aligned themselves with the all-powerful Catholic Church which condemns homosexuality and same sex relationships. Il Giornale's website was inundated with outraged comments protesting at what they called a ''shock campaign'' but gay rights campaigners in Italy welcomed the advert."
"Blog Queer Italy said: 'Nothing can be more indigestible for our bigots and homophobes who cannot bear to read the word family with the words same sex. 'We like this advert and we welcome it – maybe some others will follow on from this campaign and look forward progressively and modernly, instead of backwards to the Middle Ages.'"
Last year, Prime Minister Berlusconi received criticism for his saying that "it's better to be passionate about beautiful girls than gay."