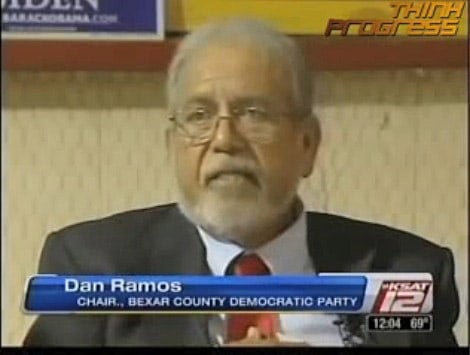 I missed this piece last weekend in the Dallas Voice about Texas' Bexar County Democratic Chair Dan Ramos's remarks about the national gay group Stonewall Democrats:
In an interview with the Current today, Ramos blamed homosexuals in the party for both undermining his authority and for the poor election results in Bexar County in 2010. "They are all connected to the gay Democratic Party, the so-called Stonewall Democrats. Just like termites they managed to get some of their people in key positions," he said.
The party faithful has been largely divided over Ramos since he was elected to office in May, 2010, but his chief detractors are all homosexuals, Ramos said.
Ramos said he opposes homosexuality on religious grounds and doesn't believe gay-friendly Democrats like Stonewall reflect the values of Bexar County voters. "I liken them to the Tea Party — the Tea Party and the f**king Nazi Party — because they're 90 percent white, blue-eyed, and Anglo, and I don't give a f**k who knows that. Just like the blacks … they're American, but you can't get your way just because you're black."
Ramos held a press conference today, Think Progress reports, at which he repeated the "termites" remarks and refused to apologize for the comments.
Said Ramos: "I believe I'm dealing with the truth, sometimes the truth hurts. So be it."
The chair of the Texas Democratic Party Boyd Richie has called for Ramos' resignation and the Stonewall Democrats have condemned Ramos' remarks.
Ramos sought money from Stonewall Democrats during his campaign for County Chair.
Watch the video, AFTER THE JUMP…