Anti-gay harassment and bullying are reportedly a huge issue at Paloma Valley High School in Menifee, California, and the problem is not only with the students, the Press-Enterprise reports: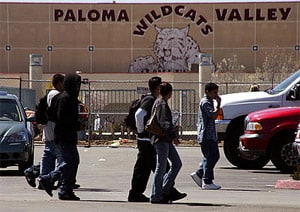 Teachers and students cited several issues and incidents that have occurred recently, most during the current school year. In one instance, a teacher drew an "S" on a student's hand and repeatedly referred to the student, who was wearing a T-shirt that read "Gay is Good," as a sinner throughout class, according to a complaint with the district provided by a teacher.
The complaint, dated Oct. 14, detailed the incident. In the document, provided with names blacked out, the student wrote, "I've heard this has happened before."
Ventuleth said the complaint was investigated and "based on our findings, we have dealt with the employee." She declined to elaborate, citing the employee's right to confidentiality.
The school's GSA was forbidden from sharing information about prominent gay people during PA announcements during Gay, Lesbian, Bisexual and Transgender History Month even though similar groups, like the Black Student Union, were allowed to do so.
A gay student, Andrew Braham, was suspended after an altercation which began with another student using an anti-gay slur. The student who hurled the slur got no punishment.
After a second exchange with the student in December, which again began with the classmate using a gay slur, Andrew said he also was suspended. He learned he would face expulsion and was kicked off the school's cheerleading squad. Andrew says the other student was not removed from a similar extracurricular activity or suspended.
Andrew acknowledges he used bad language but said he and the other student should have been disciplined equally.
Sounds like an awful place for LGBT kids to go to school.