The BBC is apologizing for remarks made by actor Hugh Grant after he was invited into the commentators box at the Six Nations rugby tournament on Sunday, Brit tabloid The Sun reports: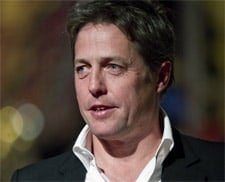 He told BBC1 viewers he played rugby at school, adding: "I discovered it hurt less if you tackled hard than if you tackled like a queen."
Some fans condemned Hugh's remarks on Twitter.
Edward A. E. wrote: "Nice bit of old-school homophobia from him that, wasn't it?"
Will Full said Hugh would not dare to make the comment in front of gay Welsh rugby ace Gareth Thomas.
Said the BBC: "We apologise for any offence his comments may have caused."