The Des Moines Register reports that a couple of Iowa Republicans have had enough of anti-gay activist Bob Vander Plaats and his attempts to control the state's judicial system: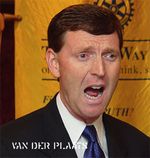 Two Republicans intend to publicly call for anti-gay-marriage activist Bob Vander Plaats to "answer questions about his campaign to politicize Iowa's judicial system," according to a news release.
Dan Moore, former advisor for Vander Plaats' campaign for governor, and former Lt. Gov. Joy Corning will hold a news conference in Des Moines on Thursday.
**
"As he is traveling the state, Vander Plaats has repeatedly called for the remaining justices to be removed and further inject politics into Iowa's courts, an agenda out of touch with the majority of Iowans," says the news release from the advocacy group Justice Not Politics.