On Friday, an article in The Daily Beast revealed that two United States Citizenship and Immigration Services (USCIS) District Offices have both confirmed that that alien relative petitions and green card applications filed by married same-sex couples will not be denied.
Stop The Deportations explains the historical significance of these actions: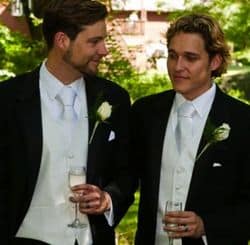 "Instead, final decisions on these applications will be held in abeyance, i.e. put on hold.  This historic first seems to be directly linked to the Obama administration's change of position on DOMA announced on February 23.  The DOMA Project welcomes the new and exciting potential this presents for married gay and lesbian couples to obtain legal status and prevent deportations of the foreign partner. However, in this new and rapidly changing legal environment, we urge attorneys and binational couples to proceed with an abundance of caution."
"The significance of the 'abeyance' policy is two-fold: first, it means that petitions and applications that normally would have been denied because of DOMA, will now remain in "pending" status, and second, this status will give protection and benefits to the applicant for an indefinite period. The "abeyance" policy, it is presumed, will put these cases on hold while the ultimate fate of DOMA is determined by a decision of the Supreme Court or through repeal by Congress."
Last week, Andy reported a judge suspended deportation proceedings in the case of binational lesbian couple Monica Alcota and Cristina Ojeda and allowed the couple to apply for a green card.