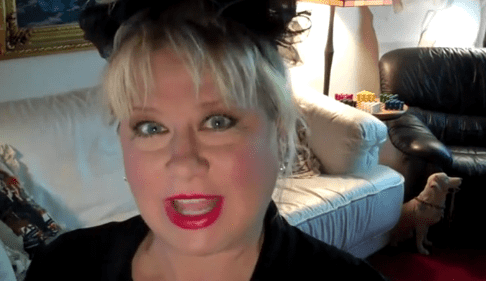 Like her fellow former SNL cast member Dennis Miller, Victoria Jackson has been very outspoken about her conservative, anti-Obama beliefs over the last couple of years. This week, the Tea Party member and CPAC attendee has published a piece on wing nut central, World Net Daily, titled "The Muslims Next Door," wherein she displays her xenophobic and anti-gay beliefs and even resorts to bashing the creators of Glee for airing the recent man-on-man kiss.
In the article, Jackson writes about a new women's magazine put out by al-Qaeda:
"This new al-Qaida magazine for women has beauty tips and suicide-bomber tips! Gimme a break! That is as ridiculous as two men kissing on the mouth! And I don't care what is politically correct. Everyone knows that two men on a wedding cake is a comedy skit, not an "alternate lifestyle"! There I said it! Ridiculous! Did you see "Glee" this week? Sickening! And, besides shoving the gay thing down our throats, they made a mockery of Christians – again! I wonder what their agenda is? Hey, producers of "Glee" – what's your agenda? One-way tolerance?"
Last month, Jackson referred to President Obama as a communist but that was definitley not the first time she's made such an outlandish claim. She wrote a whole song about it last year.
Watch her perform a new song (this one's anti-Muslim), AFTER THE JUMP.