Attorney General Eric Holder spoke out in defense of former King & Spalding attorney Paul Clement in a news conference with reporters yesterday, Politico's Josh Gerstein reports: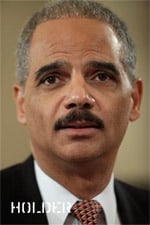 "Paul Clement is a great lawyer and has done a lot of really great things for this nation. In taking on the representation–representing Congress in connection with DOMA, I think he is doing that which lawyers do when we're at our best," Holder said during a roundtable with reporters at the Justice Department. "That criticism, I think, was very misplaced."
Holder also compared the criticism of Clement to the attacks on Justice Department lawyers for their past work for detainees at Guantanamo.  "It was something we dealt with here in the Department of Justice…The people who criticized our people here at the Justice Department were wrong then, as are people who criticized Paul Clement for the representation that he's going to continue," Holder added.
Holder said he wasn't laying blame for Clement's disagreement with King & Spalding or disputing the firm's claim it withdrew due to improper vetting of the agreement to represent the House of Representatives, which is stepping into the cases after President Barack Obama concluded that DOMA is unconstitutional and ordered the Justice Department to stop defending it in court.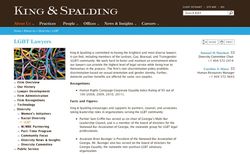 In related news, the HuffPost's Amanda Terkel reports that there was "mayhem" at King & Spalding after employees discovered the firm had taken on the case:
"Management was divided, people were threatening to quit," the source said. In addition, it was unclear if members of the firm's Diversity Committee had been consulted ahead of time about taking on the case.
**
The ripple effects of the firm taking on the case have extended beyond King & Spalding's Washington, D.C. offices. Pam Rymin, a litigation paralegal with another firm in Atlanta, made headlines last week for publicly complaining to King & Spalding's Atlanta leg, saying the gay community may be incensed enough to start holding rallies in protest of doing business with the company.
Background on King & Spalding's involvement
HRC Confirms it Pressured King & Spalding's Clients on DOMA Issue [tr]
Paul Clement Resigns from King & Spalding [tr]
King & Spalding Firm Backing Out of DOMA Case [tr]
Protests Planned for DOMA-Defending Law Firm [tr]
King & Spalding Firm to Face Backlash Over Defending DOMA [tr]
DOMA Firm's Gag Order Revealed [tr]
DOMA Defense to Cost American Taxpayers $500K, Maybe More [tr]
House Files Motion to Intervene in DOMA Lawsuit [tr]
Former Bush Solicitor General Paul Clement to Lead DOMA Defense [tr]
DOMA-Defending Attorney Paul Clement's Firm is Proud of its Pro-LGBT Policies [tr]