After a series of amendments were attached to it that essentially keep the bill as it was introduced, an anti-gay Tennessee education bill was advanced by a Senate panel yesterday, the Knoxville News reports: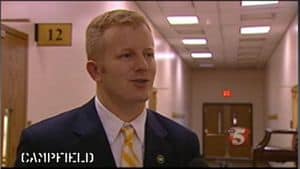 The measure (SB49) is sponsored by Sen. Stacey Campfield, R-Knoxville, who unsuccessfully pushed the same idea – nicknamed the "don't say gay" bill – for six years as a member of the state House before he was elected to the Senate.
As introduced, the bill would have put into law a declaration that it is illegal to discuss any sexual behavior other than heterosexuality prior to the ninth grade.
The bill was approved 6-3 and sent to the Senate floor. All the no votes came from Democrats.
Also:
Campfield has been criticized on some blogs this week for seeking a $1,000 "retainer" fee to debate the "don't say gay" bill with Del Shores, a Texas-based movie producer and director who has made films on homosexuality.
State law includes prohibitions on a legislator taking compensation for work related to legislative duties except for his or her salary and expense payments due from the state. Another statute prohibits legislators from accepting an honorarium except for travel expenses.
Campfield said his request, which came in an exchange of messages with Shores, was simply for a deposit to guarantee that his travel expenses would be paid.
Campfield has unsuccessfully pushed the so-called "don't say gay" bill for the last six years.
Watch a 2009 report on the bill, AFTER THE JUMP…