King & Spalding's agreement with the U.S. House of Representatives General Counsel Kerry Kircher on behalf of the House's Bipartisan Legal Advisory Group to defend DOMA in court, has a gag order, Metro Weekly reports: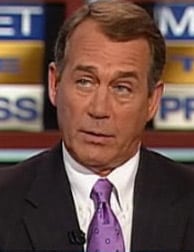 All of King & Spalding's employees – lawyers and non-lawyers – are barred from advocating for the Respect for Marriage Act – the bill that would repeal the Defense of Marriage Act – in the 112th Congress, according to the terms of the contract to defend DOMA that King & Spalding partner Paul Clement signed on the firm's behalf on April 14.
The gag order might be illegal, according to Jon Davidson at Lambda Legal.
Minority Leader Nancy Pelosi continues to push Boehner on costs associated with the defense of DOMA, the Washington Blade reports:
In an April 20 letter to U.S. House Speaker John Boehner (R-Ohio), Pelosi says questions remained unanswered about hiring Paul Clement, an attorney with King & Spalding, to help the House general counsel with defending DOMA in court because Democratic lawmakers weren't informed of negotiations prior to the contract signing.
"Since Democratic members were excluded from all negotiations, I would appreciate your providing the following information concerning the contract's transparency, cost, the discount and the restrictions placed upon King and Spalding's vast lobbying practice," Pelosi writes.
***
Among Pelosi's inquiries is whether King & Spalding won the contract after a bidding process or if the selection of the firm was made as a sole source contract. The Democratic leader also asks how the $520 an hour rate for Clement was determined and the total possible sum of $500,000 for his work.
MetroWeekly's Chris Geidner also looks at the fantasy aspect of the $500,000 cap on the cost of the litigation.
In related news, Focus on the Family is thrilled with what Boehner is doing:
"Ladies and gentlemen, it just doesn't get any better on a Monday than to hear that the House of Representatives has selected Paul Clement as its outside counsel to take on the defense of DOMA," wrote Focus blogger Bruce Hausknecht on Monday. "Clement's resume' reads like a lawyer's fantasy: Georgetown, Cambridge, Harvard Law, Scalia law clerk, Solicitor General of the United States, even acting Attorney General of the United States – for a day!"
Previously…
DOMA Defense to Cost American Taxpayers $500K, Maybe More [tr]
House Files Motion to Intervene in DOMA Lawsuit [tr]
Former Bush Solicitor General Paul Clement to Lead DOMA Defense [tr]
DOMA-Defending Attorney Paul Clement's Firm is Proud of its Pro-LGBT Policies [tr]