Another poll, this one from CNN, shows a majority of Americans support same-sex marriage: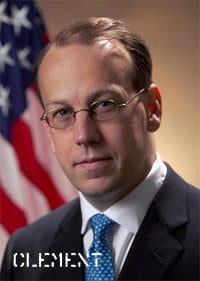 Of those surveyed for a CNN/Opinion Research Corporation poll released Tuesday, 51 percent said they think marriages between lesbian and gay couples should be recognized as legal and come with the same rights as heterosexual unions, while 47 percent said the marriages should not be recognized.
The last time CNN asked the question, in April 2009, approval for gay marriage was at 44 percent and disapproval was at 54 percent. Two polls released in mid-March also found support for gay marriage in the low in 50s.
Yesterday, House Speaker John Boehner announced that former Bush Solicitor General Paul Clement had been hired to lead the House GOP's case defending DOMA. Jeffrey Buchholtz and Nicholas Nelson are the other King & Spalding attorneys on the case.
Today it was revealed that Clement's firm would be charging the American taxpayer $520 an hour to defend this discriminatory law:
2. The General Counsel agrees to pay Contractor for all contractual services a sum not to exceed $500,000.00. … Furthermore, it is understood and agreed that should the $500,000 cap be reached before the Litigation is complete, and if the cap has not then been raised by written agreement…contractor shall not be obligated to continue providing legal services under this Agreement.
3. The General Counsel agress to pay Contractor at a blended rate of $520.00 per hour for all reasonable attorney time expended in connection with the Litigation, and at 75 percent of the Contractor's usual and customary rates for all reasonable non-attorney time…and to reimburse Contractor for all reasonable expenses incurred by the Contractor in connection with the Litigation[.]