This morning, Igor Volsky of the Wonk Room confronted Newt Gingrich about hundreds of thousands of dollars in money he funneled to the American Family Association, a group which has been designated a hate group by the Southern Poverty Law Center.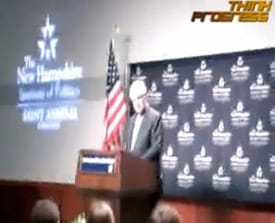 The money was directed toward a successful campaign to oust three Iowa Supreme Court judges for their ruling which legalized marriage equality in the state.
When asked why he would fund a group that advocates the criminalization of homosexuality and reparative therapy as a "gay cure", Gingrich refused to answer, instead asserting that the AFA is not a hate group:
"You've just made a whole series of assertions that I'm not going to automatically accept your description of an organization that has a million and five hundred thousand members or more…The only thing I've done, which I was perfectly happy to defend, is I did help raise resources for a campaign to defeat three judges in Iowa. […] You bring a series of allegations that I can't check about a group that is largely a Christian based membership group, that is fairly widespread in its membership and I suspect most of those people do not in any way think of themselves as a hate group even if that's how you would characterize them."
Watch, AFTER THE JUMP…
Recently…
Watch: Peter Sprigg Claims FRC Is Not A Hate Group [tr]