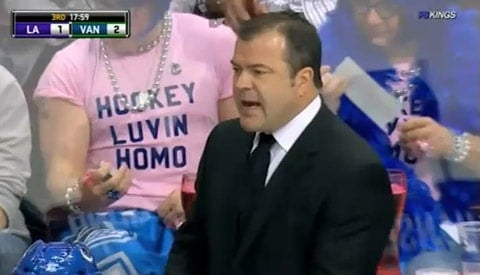 "Henrietta" and "Daniella", a pair of "Hockey Luvin Homos", became are quickly becoming viral celebs after appearing on screen during the L.A. Kings – Vancouver Canucks match-up on Thursday night.
They've already been interviewed by Yahoo's "Puck Daddy" blog:
Henrietta said they're both gay and have been "ardent Canuck fans for many long suffering years." On his Facebook page, there are images of his attendance during last year's Stanley Cup Playoffs at Rogers Place.
"We have made appearances at Gay Sports Bars in Vancouver as the Sisters … Henrietta and Daniella with great hilarity and support.  This was not a stunt or done to be rude or offensive. We were there to show our and the Vancouver Gay community's total and absolute support of our Canucks as they took the Presidents [Trophy] and begin their journey to the Stanley Cup," wrote Henrietta in an email.
Daniella obtained the tickets for his friend Henrietta's 50th birthday, and the two decided to create a spectacle with their attire. Inside the arena, they posed for photos with other fans and with families, at first covering the word "Homo" with silver tape with a Vancouver logo on it.
"We held back the word 'Homo' for the first two periods until we gauged the reaction of the crowd to our costumes, not wanting to be offensive," said Henrietta.
Watch as the tape is removed, AFTER THE JUMP…
(via daily dish, outsports)