For the first time since the administration changed its tune on DOMA, a Congressman has asked Homeland Security Secretary Janet Napolitano to resolve the deportation case of his constituents and halt deportations of gay and lesbian binational couples.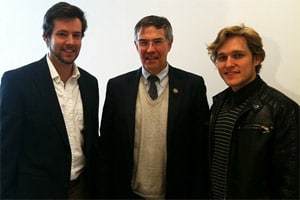 Congressman Rush Holt sent a letter to Napolitano last week urging her to take action on the case of Josh Vandiver and Henry Velandia (pictured, right, with Holt, center), who have been fighting deportation since 2009 and working as advocates for the campaign to help other binational same-sex couples in similar situations.
In the letter, Holt writes that their case "illustrates the injustice and unconstitutionality of the Defense of Marriage Act" and notes that "our immigration policies must work to unite families, not rip them apart." As the Congressman notes, Josh and Henry were lawfully married in the state of Connecticut, but because of DOMA Josh is prevented from petitioning Henry for a green card. In fact, Josh did file an alien relative petition for Henry earlier this year, and that petition was denied. Henry faces a final deportation hearing on May 6. On that day an Immigration Judge in Newark, New Jersey will decide whether Henry will be deported to Venezuela.
Holt asks for a suspension of all deportations involving same-sex married binational couples until legal questions regarding DOMA have been settled.
Read his letter, AFTER THE JUMP…