UPDATED
Greg Sargent at The Plum Line talks to HRC about claims by conservative bloggers that "the left engaged in an 'unprincipled campaign' of intimidation" after King & Spalding decided to take on the DOMA defense.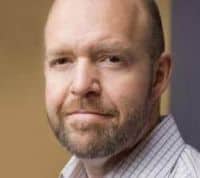 HRC's Fred Sainz (pictured) unapologetically confirms the group did pressure the firm's clients.
Sainz said his group did not ask any of the firm's clients to drop the firm in retaliation for taking the case, as is being assumed by conservatives who are alleging an untoward pressure campaign. Rather, he said, his group informed the firm's clients that taking the case was out of sync with King and Spalding's commitment to diversity, which it proudly advertises on its Web site.
"King and Spalding's clients are listed on its web site, so we did what you would expect us to do," Sainz told me. "We are an advocacy firm that is dedicated to improving the lives of gays and lesbians. It is incumbent on us to launch a full-throated educational campaign so firsm know that these kinds of engagements will reflect on the way your clients and lawschool recruits think of your firm."
"We did all of this, and we're proud to have done it," added Sainz, who declined to name which King and Spalding clients his group contacted.
UPDATE: Another report says Coca-Cola was the client to get King & Spalding off the case.
Sources with knowledge of the backlash confirm that one of King & Spalding's top clients, Coca Cola, also based in Atlanta, directly intervened to press the firm to extricate itself from the case.
A Coca Cola spokesman declined to comment on or off the record for this story, but pointed TPM to the company's long public history of support for equality and diversity.
Gay rights group: You're damn right we pressured law firm on DOMA [plum line]
Background on King & Spalding's involvement
Paul Clement Resigns from King & Spalding [tr]
King & Spalding Firm Backing Out of DOMA Case [tr]
Protests Planned for DOMA-Defending Law Firm [tr]
King & Spalding Firm to Face Backlash Over Defending DOMA [tr]
DOMA Firm's Gag Order Revealed [tr]
DOMA Defense to Cost American Taxpayers $500K, Maybe More [tr]
House Files Motion to Intervene in DOMA Lawsuit [tr]
Former Bush Solicitor General Paul Clement to Lead DOMA Defense [tr]
DOMA-Defending Attorney Paul Clement's Firm is Proud of its Pro-LGBT Policies [tr]