Grassroots activist group Canvass for a Cause has won a case against Target Corporation after the retailing giant tried to stop the group from petitioning outside its stores. Court documents suggested Target was worried that the volunteers were making it look like the corporation supports equality for gays and lesbians.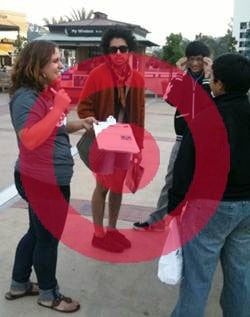 San Diego Gay & Lesbian News reports:
Superior Court Judge Jeffrey B. Barton released his ruling this afternoon, denying Target's motion for an injunction to stop CFAC from petitioning customers.
During the hearing on March 25, CFAC contended that its right to free speech was being challenged by the lawsuit, while Target claimed the grass-roots group's tactics were harming its business.
Tres Watson, executive director of CFAC, said he was thrilled with the ruling.
"This was not just a victory for the LGBT community," Watson said, "but a victory for everybody who supports the fundamental American values to free speech."
Watson said he expects Target will appeal the ruling.
Last month, Lady Gaga dissolved a deal with Target because of their anti-LGBT giving policies. Those policies came to light during last year's election cycle when the corporation made sizable donations to MN Forward, an a conservative  PAC which funded campaign commerials for anti-gay gubernatorial candidate Tom Emmer.