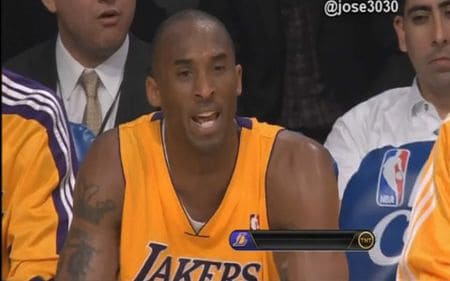 ESPN's Lisa Salters spoke to Kobe Bryant about his "fag" slur from last week. Bryant insisted that he's not anti-gay and claims that he used to beat up kids in high school who would tease his gay friends. Or so he told Salters:
"Even though I didn't mean it that way, I've since learned what that word still means to a lot of people. I went on-line myself and I did my own research and I saw and I read about kids who were committing suicide because of being teased for who they are. I don't play that. I used to beat up a lot of kids even in high school who used to tease my friends because they were gay, or because they were black, or because they were Jewish, or because they were yellow, or because they were whatever. For people who don't think my apology is sincere, they don't know me. This isn't over for me. I really plan to do more. What I said was ignorant and I really didn't realize what I was saying. Now that I do and realize how it affects people I really plan to do more and to help with the awareness."
Dan Fogarty of Dan Abrams' website Sports Grid expresses his doubts on the story: "Sorry Kobe, but this is tough to see. Although his multicultural upbringing is well documented, Kobe sounds like he's stretching it a bit when he insists that he was some sort of high school protector of the ostracized. I mean, maybe I'm wrong. Maybe he did beat up a few kids in high school who teased his friends. And picturing Kobe sitting in front of a computer, doing his own research on bullied gay teens, is kind of a touching mental image. But that's easier to picture than Kobe Bryant, schoolyard avenger."
Listen to Salters talk about her conversation with Bryant, AFTER THE JUMP.