Lesbian activist Kelly Cassidy has been picked to fill a vacant seat in the Illinois House, the AP reports: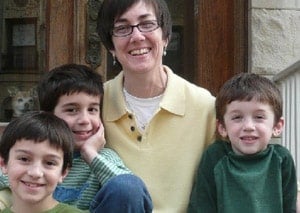 "Kelly Cassidy was chosen from a field of 23 candidates Saturday to serve as state representative in the 14th District. She's replacing Harry Osterman, who was elected to the Chicago City Council in February. The 42-year-old lesbian activist will be the third openly gay member of the state House. She reports to Springfield on May 16."
Long-time lesbian activist Kelly Cassidy has been appointed to fill Illinois' 14th District state representative on Chicago's Far North Side. State Rep. Harry Osterman is leaving the post to assume assumes his 48th Ward aldermanic duties in May. Another lesbian, Paula Basta, had been in consideration for the post, as was transgender activist Catherine Sikora, vice president of the board of Equality Illinois. There were more than 20 people positioning for the appointment.
Said long-time gay rights activist Rick Garcia to Now in Gay Chicago: "It is telling that Kelly won a unanimous vote. She is imminently (sic) qualified to represent the district and she has an impeccable record on LGBT issues…There was an abundance of riches in this district. Transgender rights activist Catherine Sikora has a rich and long history in the community as does Paula Basta. It is telling that among the strongest candidates in the 14th district we had lesbians and a transgender woman. And they were all given a fair hearing and  equally considered."