Fast-tracked legislation toward a ballot measure to ban same-sex marriage in the state gets a hearing in Minnesota today. Lawmakers have changed the language in the legislation from years past.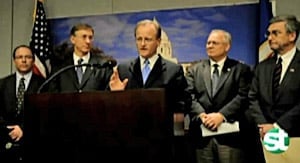 How nice of them:
Unlike previous years, the proposed amendment is limited to marriage, and does not address legal equivalents. That could open the door to legal recognition of civil unions and other non-marriage partnerships between gay couples.
"The language that we are proposing today doesn't do anything except say this is what we mean by marriage," said Sen. David Hann, an amendment co-sponsor. "In past years, there may have been desires to do other things."
The change could give the measure a better chance when it comes to the ballot.
The linguistic difference means that even if voters approved the amendment on the 2012 ballot, a future Legislature could permit legal arrangements between gay couples, including allowing same-sex couples the same legal rights as married couples.
Watch a video of proponents and advocates at the bill's introduction, AFTER THE JUMP…