Charlie McCaslin, chairman of the Texas College Republicans, has resigned from his post following the emergence of a video in which the Southern Methodist University junior is heard calling the opponents of National College Republicans candidate Alex Schriver "fags."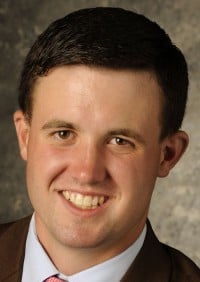 McCaslin used the slur during a toast to Schriver who himself is heard reacting favorably to the speech by cheering "To Charlie!" McCaslin, who seems inebriated in the video, is over the legal drinking age of 21.
According to the site The Other McCain, "Schriver called McCaslin's comments 'inappropriate and highly offensive,' and warned that 'it is possible that some could incorrectly interpret my actions to be supportive" of McCaslin's remarks. 'I regret putting myself in that situation,' Schriver said in the statement. 'I hope that any who were offended will accept my sincere apology.'"
McCaslin was elected as state CR chair only last month and Schriver is currently vice-chairman of the national organization.
McCaslin posted his resignation letter on the Texas College Republicans Facebook page:
I humbly submit my resignation as Chairman of Texas College Republicans. I cannot continue my work for the party in this capacity. The mistakes I have made have put my colleagues, friends, and school in harm's way and they do not deserve to be part of such a bitter cycle. My friends in Texas College Republicans are my family and I care about them the most. The only way they can fight for our cause is with my resignation.

I have a committed the last year of my life to the betterment of Texas College Republicans. This has been the experience of a lifetime, in that I have strove not only to be effective but to always do the right thing. In this instance, my actions were wrong. My hope is that through my resignation, we may move forward in working for the Republican cause. The Republican Party is the best hope for a brighter future in America. The cause of freedom will only be upheld if we come together and fight. That way the hope will live on and the dream will never die.

God Bless America and God Bless Texas,
Charles Taylor McCaslin
As for Schriver, his opponent, Jonathon Snyder, wants to also see him gone: "Having a Chairman who is willing to accept and then toast degrading remarks about women, homophobic slurs and juvenile behavior against anyone is unacceptable.  For the sake of the CRNC, our candidates, and party I am calling on Alex Schriver to resign his post with the CRNC and end his campaign to become the next national chairman effective immediately."
Watch video of the speech, in which McCaslin maintains that "character counts," AFTER THE JUMP.