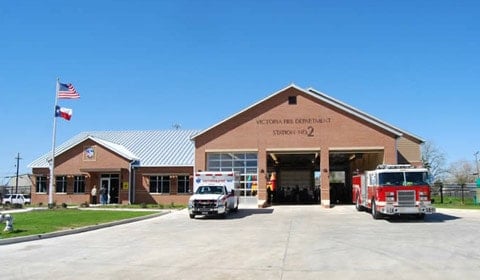 Two Victoria, Texas firefighters have been fired over a nude male photo collage displayed at Victoria Fire Station No. 2. Victoria is between Houston and Corpus Christi.
About 10 photographs were joined together in a montage that included a scantily clad crotch shot, a shot of one nude man kissing another nude man's body, a cartoon of two men kissing, a shot of one nude man looming over another with his hands on his shoulders, a bare-chested man and a shot of a man's scantly clad rear end.
The montage also includes face shots of two Hollywood actors. After a complaint was filed with the city last month and an internal investigation conducted, the two firefighters were fired, according to a city news release Wednesday. The city released few details about the incident so it is undisclosed exactly where the images were displayed. The Advocate is waiting for reports of the investigation requested from the city under the Texas Public Information Act.
The city Communications Director and the head of the firefighters union are refusing to comment on the case.
Provocative photographs of men led to firefighters' dismissals [victoria advocate]