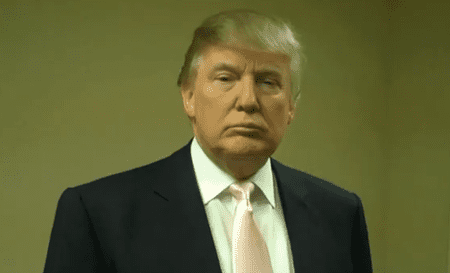 Donald Trump brought his phony hint of a presidential run to a "tea party" rally in Boca Raton, Florida. In his speech to the crowd, Trump bashed Obama over his birth certificate (natch) and also questioned whether ot not he actually authored his first memoir, Dreams From My Father. Said Trump: "The man that wrote the second book didn't write the first book…The difference was like chicken salad and chicken s**t."
Why are we supposed to believe Trump? As he told the crowd in Florida, apparently because he knows "a lot about books." Characteristically outlandish soundbites from the speech (via CNN) are AFTER THE JUMP.
Also, Talking Points Memo cornered Trump and asked him about the progress in his birther investigation. He didn't have much to say.
"I've looked very closely and have continued to look. I'm not going to say anything further than that, but we've looked all around and we are continuing to look and it's very interesting and that's all I can say."
Trump ended the interview after being questioned about whether he himself is paying private detectives to look into Obama's birth certificate in Hawaii. Watch that clip, AFTER THE JUMP.