Dharun Ravi, the roommate of Tyler Clementi, the Rutgers University student who committed suicide in October after Ravi streamed images of Clementi's encounter with another man online, has been hit with a grand jury indictment: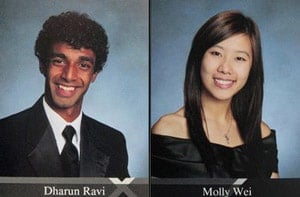 The AP reports:
A 15-count indictment was handed up Wednesday by a Middlesex County grand jury against Dharun Ravi, of Plainsboro, who had already faced invasion of privacy charges along with another student, Molly Wei.
The indictment charges Ravi with bias, invasion of privacy, witness and evidence tampering, and other charges stemming from the suicide of 18-year-old Tyler Clementi in September. The indictment said charges against Wei would not be presented to the grand jury "at this time."
Clementi jumped off the George Washington Bridge into the Hudson River shortly after authorities say Ravi and Wei used a webcam to peek at his liaison. Lawyers for Ravi say the webcam stream was viewed only on a single computer and did not show the men having sex.
The indictment says Ravi targeted Clementi and invaded his privacy knowing that Clementi would be intimidated because of his sexual orientation.
Clementi's parents, Jane and Joe Clementi released a statement Wednesday: "The grand jury indictment spells out cold and calculated acts against our son Tyler by his former college roommate. If these facts are true, as they appear to be, then it is important for our criminal justice system to establish clear accountability under the law."