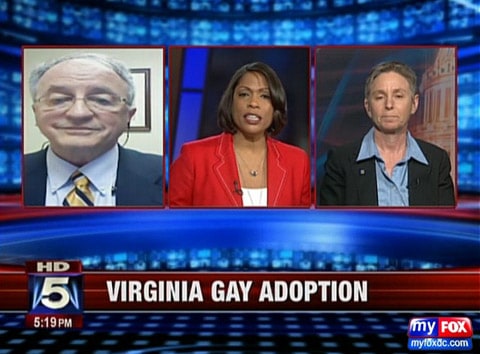 Anti-gay delegate Bob Marshall, who is leading the charge against adoption by gay couples in Virginia, debates Human Rights Campaign Family Project Director Ellen Kahn about a proposal that would allow such adoptions.
Watch, AFTER THE JUMP…
Says Marshall: "The primary problem here is that Governor Kaine, and now…Governor McDonnell's office hasnt done anything about it so far….is that they want private adoption agencies like Catholic Charities to be compelled to accept applications from individuals whose behavior constitutes a violation of a 6,000-year-old moral code …There is no real justification for imposing this on private agencies who believe [homosexuality] is a disordered behavior."
Virginia Governor Bob McDonnell indicated earlier today that he opposes adoption regulations proposed by his predecessor Tim Kaine in 2009 that would allow gay and lesbian couples to adopt children in the state. Currently, married couples, and single men and women regardless of sexual orientation can adopt. 
Watch, AFTER THE JUMP…
Earlier…
VA Gov. Bob McDonnell: I Don't Want Gay Couples Adopting Children [tr]
Governor Bob McDonnell Considers Measure Allowing Gay Couples to Adopt Children in Virginia [tr]
Should Gay Couples Have The Right To Adopt Children in Virginia?: MyFoxDC.com