Vermont Governor Peter Shumlin traveled to Providence, Rhode Island yesterday to talk with lawmakers and Governor Lincoln Chafee about how marriage equality has helped his state.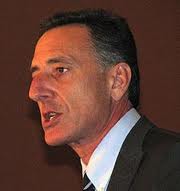 The Providence Journal reports on their meeting:
Accompanied by his 20-year-old daughter, Olivia, Shumlin arrived at the State House shortly after 2:30 p.m. for a meeting with House Speaker Gordon D. Fox.
He then met with several other lawmakers, including: Senators Joshua Miller, D-Cranston; Rhoda Perry, D-Providence; and Juan Pichardo, D-Providence; and Representatives Frank Ferri, D-Warwick; Arthur Handy, D-Cranston; Larry Valencia, D-Richmond; and Donna Walsh, D-Charlestown, said Bill Fischer, spokesman for Marriage Equality Rhode Island, a gay advocacy group that arranged the visit.
***
"My view is a tolerant atmosphere fosters creativity," Chafee, an independent and a supporter of same-sex marriage, told about 50 people. "It fosters economic innovation, it fosters growth and it puts our people to work."
While Chafee and Shumlin talked, about 40 people, most of them from the Hispanic Ministerial Association of Rhode Island, prayed and held signs outside the State Room to voice opposition to same-sex marriage and support for traditional marriage.
The Burlington Free Press adds:
Vermont lawmakers first authorized civil unions a decade ago. Shumlin urged Rhode Island to avoid that "half step" and pass a full gay marriage law instead.
"We went halfway, and halfway on civil rights isn't good enough," he said during a joint news conference with Chafee, a longstanding supporter of gay marriage.
Vermont's marriage equality law took effect in September 2009. Prior to that the state had  recognized civil unions since 2000.
The Senate Judiciary Committee held hearings earlier this month on a marriage equality bill pending in the state. Watch video of the contentious debate, HERE.