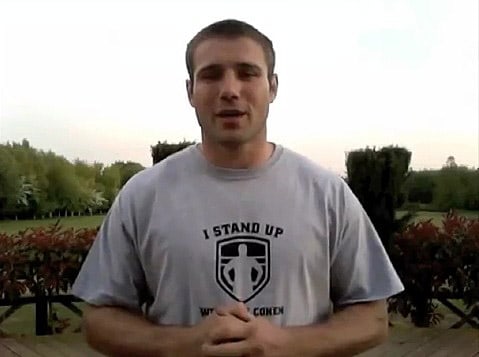 Back in March, Ben Cohen told me that he was waiting to make a decision on his post-Sale Sharks rugby team life. He's now decided on his next movie. Cohen has just announced that he will retire from rugby and chair the world's first anti-bullying organization, a group he founded called StandUp Foundation.
Cohen's role as an advocate for equality and the rights of the individual has been developing over the past few years through his work with the gay community both in the UK and the USA. He is the first straight sports star to dedicate his philanthropic efforts for the benefit of LGBT people.
 
He is currently travelling to the USA on his Acceptance Tour visiting 4 cities to promote his message, raise funds to assist existing LGBT organisations and to gather support from everyone encouraging them to stand up with him against bullying and homophobia and to stand up for love and equality.

"To be honest, I would never have imagined my career was going to  move in this direction after my professional rugby career, but here we are – it's happening. It is incredibly exciting and we have so many plans in the pipeline to be able to make a difference. In my view, rugby is a very inclusive sport. Everyone can get involved in one way or another, so I will be using it as a vehicle to drive my message of acceptance out to people from  all walks of life, everywhere. There is a lot of work to be done. Attitudes need to change. Young people should not be bullied into taking their own lives. That is what is happening and it needs to stop."
In case you didn't see it the first time, watch the anti-bullying message he recorded alongside Andy Cohen, AFTER THE JUMP.