Chris Johnson, a Washington Blade reporter whose articles I refer to quite frequently here on Towleroad, was mugged in the resort town of Rehoboth Beach, Delaware over the weekend by assailants who took his cell phone, the Blade reports: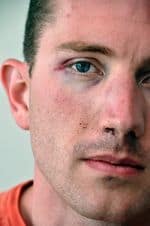 Johnson said the attackers jumped him from behind as he walked along King Charles Street while he was headed toward the town's business section to meet friends at the Blue Moon gay bar and restaurant.
Johnson said a police officer and detective from the Rehoboth Beach Police Department interviewed him about the incident, saying the matter was under investigation. 
***
Rehoboth Beach gay activist Peter Schott said violent assaults of this kind are "an anomaly" in the popular beach resort town, which has several gay bars and a large gay and lesbian presence.
Johnson is recovering after being released. The attack happened on his birthday. I wish Chris belated birthday wishes for a speedy recovery.
(image michael key/blade)