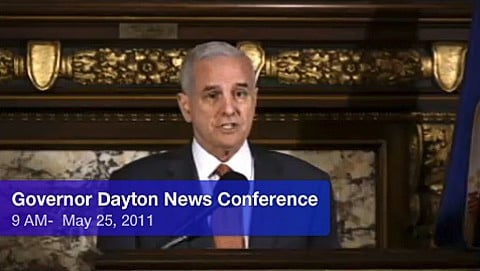 Minnesota Governor Mark Dayton today issued a symbolic veto of the recently-passed bill to put a ballot measure banning same-sex marriage before voters next year.
Minnesota's governor does not have the power to veto constitutional amendments.
Said Dayton: "Although I do not have the power to prevent this divisive and destructive constitutional amendment from appearing on the Minnesota ballot in November 2012, the Legislature sent it to me in the form of a bill…Thus, symbolic as it may be, I am exercising my legal responsibility to either sign it or veto it. Without question, I am vetoing it."
Openly gay lawmakers Rep. Karen Clark and Sen. Scott Dibble joined Dayton at the press conference
Watch Dayton's press conference, AFTER THE JUMP…