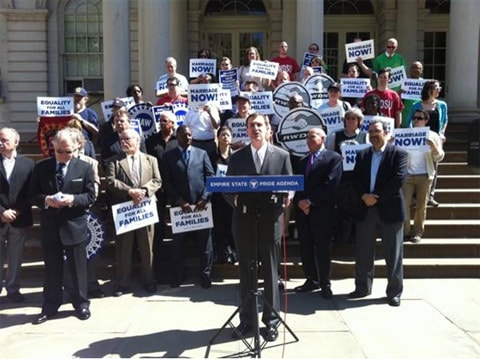 Labor leaders rallied this morning at City Hall in New York City in support of marriage equality, the Empire State Pride Agenda reports in a press release.
Resounding a message of "equal rights" for all, the leading labor figures stressed serious concerns for the future of social justice for all New Yorkers should the legislature fail to enact marriage equality. Citing a resolution adopted by delegates to the The New York State AFL-CIO Convention in 2008 stating the state labor federation's "commitment to equal rights for all union members, including LGBT members," the group raised serious concerns about "discrimination against same-sex couples" and relegation of them to "second-class citizenship." The resolution concluded by calling upon "the New York State Legislature and Governor to enact a law providing marriage equality for all citizens."
Taking part in the rally were New York State AFL-CIO President Denis Hughes, RWDSU President Stuart Appelbaum, UFT President Michael Mulgrew, Teamsters Local 237 President Gregory Floyd, Eastern Regional Vice-President of Actors' Equity Association (and former Miss America) Kate Shindle, Louis Bradbury, a co-chair of the Empire State Pride Agenda (ESPA), and the organization's Executive Director Ross Levi.
(image via city hall news)