Last week I reported that the Church of Scotland had voted to lift the ban on gay clergy. Not surprisingly, that vote of acceptance has caused consternation among more conservative members of the body, and at least two clergy have said they will leave the church over it. On the flipside, the church expects many of its members to come out of the closet and start leading a more truthful life.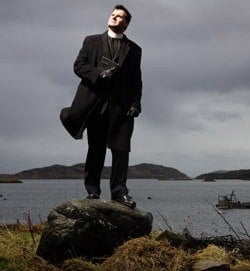 The Scotsman reports:
The Rev Andrew Coghill, whose church is in the Outer Hebrides, was among traditionalists who spoke out during last week's General Assembly – the governing body of the Kirk -warning that ordaining gay ministers would destroy the church.
***
Mr Coghill informed his congregation on Sunday that "in the light of the General Assembly's decision it is with the utmost sorrow and heartfelt grief" he would demit his charge at Leurbost Church in Lochs, Lewis, where he has served for nearly 20 years.
Last week, another pastor quit over the decision:
Last week, the Rev Roddy MacRae announced that he was of a mind to leave. Mr MacRae, The minister of Glenelg and Kintail said the Kirk had "capitulated to society".
A Church of Scotland spokesman said: "It is disappointing that any minister would feel the need to leave the Church when no final decisions have been taken, and the Church has agreed to hold more dialogue on this issue."
On the other hand, church officials say they expect a number of ministers to come out of the closet:
Kirk officials claimed that a special commission into the issue of homosexuality revealed that there are approximately 40 gay ministers across Scotland. It was also said that up to 4,300 ministers, elders, deacons and key parishioners could leave the Kirk along with 100,000 parishioners over this decision.
Kirk leaders believe that now, many may come out as the ruling also decreed that gay clergy ordained before 2009 be allowed to stay in the church.
A spokesman said: "As part of the special commission report, it was estimated that the Church of Scotland had about 40 ministers who may be in that position. It is up to each individual as to how they want to proceed."
(image guardian)