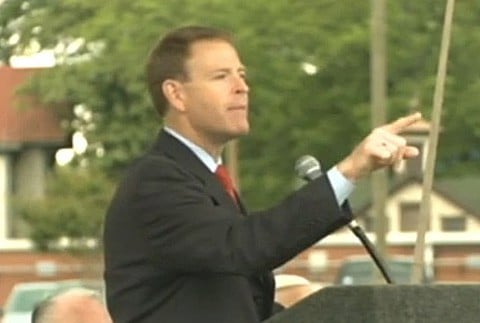 Thousands of conservative Christians rallied in Raleigh, North Carolina yesterday in support of a constitutional amendment banning same-sex marriage.
"It's time. It's time, North Carolina, it's time," Tony Perkins, president of the Family Research Council, told a cheering crowd on the Halifax Mall. "It's time to protect from those in Washington and those activist judges who are willing to aid those who want to redefine and ultimate destroy marriage."
Writes the Fayetteville Observer:
State Capitol Police estimated about 3,500 people participated in the marriage amendment rally behind the Legislative Building and organized by the Forsyth County-based Return America group. Visitors carried placards, American and Christian flags and listened to ministers and other speakers argue it's time for the voters to cast yes or no votes for the amendment.
North Carolina is the only Southeastern state that hasn't approved an amendment restricting marriage to one man and one woman. Thirty states have that prohibition in their state constitutions.
About a dozen lawmakers were introduced at the rally, including two key House Republicans who said the question would be heard in the Legislature in 2011.
"It will get done this year," House Majority Leader Paul Stam, R-Wake, told the crowd.
Senate leader Phil Berger, R-Rockingham, said later it was likely the amendment also would be considered in his chamber this year, either in the current session or in an extra session later that would examine proposed constitutional amendments.
And watch the entire rally, via WRAL, AFTER THE JUMP…