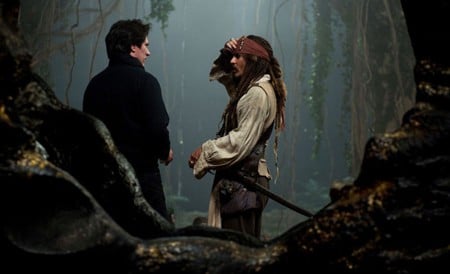 Depp to director: 'I can't believe I'm doing this again.'


NATHANIEL ROGERS
…would live in the movie theater but for the poor internet reception. He blogs daily at the Film Experience. Follow him on Twitter @nathanielr.
 
YOUR FEATURE PRESENTATION
Blockbuster franchises are not unlike waves in the ocean. That's true even for the ones that don't take place on the high seas. The marketing rhythmically churns them up and up until they break oh-so-formidably on opening weekend and then they're just foam. Which is to say that Pirates of the Caribbean: On Stranger Tides evaporates instantly after you watch it, leaving you with precious little to remember it by that you didn't already remember from The Curse of the Black Pearl back in 2003.
I saw Pirates 4 only a week ago. The only things I remember:
Blackbeard (Ian McShane) pointing his sword at the audience. 3D is only fun when its unrepentantly cheesy. Accept your true nature, 3D!
Penélope Cruz's amusing intro where she and Depp get a bit of physical comedy mixed in with their sword crossings.
The plot involves The Fountain of Youth.
The sets are really wonderful until you get to the Fountain of Youth which looks vaguely like a flooded soundstage with a fog machine and styrofoam rocks.
The movie is stuffed to bursting with action setpieces that are vaguely distinguishable from one another in that they happen at different times during the story. The plot sits off to the side, dutifully resting, while the swashbucklers swashbuckle.
In the place of Orlando Bloom we get Less Famous Pretty Boy (Sam Claflin) who is even more uptight. This one's a religious man.
In the movies defense, its lengthy centerpiece starring a school of dangerous mermaids, would be a worthy spectacle for any blockbuster. The noisy action grinds to a halt for a haunting flirtation with an Amanda Seyfried lookalike. She sings beautifully while draped, pretty and dripping, across the stern, her fin twitching with menace under the rowboat. The scene's dreamy feel turns nightmarish when her sisters arrive. Let's just say that Daryl Hannah and Ariel would most certainly not approve of their behavior.
CONTINUED (with this week's openings, and classic pirate hunks), AFTER THE JUMP…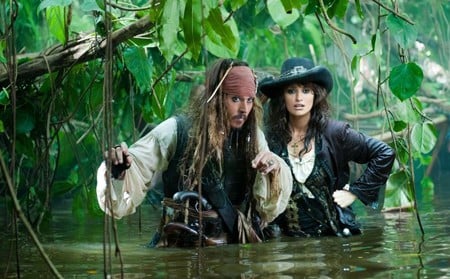 Where is the rum? Captain Jack Sparrow's wobbly entrance into popular culture in Pirates of the Caribbean: The Curse of the Black Pearl (2003) remains an indelibly magic moment in film history.  It left millions upon millions of moviegoers drunk with pleasure (myself included). The two follow up films were little more than aggressively dull hangovers, the kind that make you question if you really had such a good time at that party. On Stranger Tides is more satisfying and complete than the lazy place holding of Dead Man's Chest  and the incoherent CGI spazzing of At World's End, but it doesn't quite justify the need for further adventures. Hope springs eternal even if youth doesn't so a fifth and six film in the series are on the way.
Johnny Depp was once the life of the party as Hollywood's most inventive entertainer/actor. In his best moments in Tides, where he's free to amuse with a funny line reading, facial tic or odd gesture, he's still able to make you smile. But after so many Tim Burton oddities and Jack Sparrow reprisals, that once-intoxicating originality has all but evaporated. Depp needs to sober up with another Donnie Brasco real soon.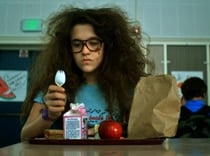 Also Opening
Woody Allen's MIDNIGHT IN PARIS, starring Owen Wilson and Rachel McAdams and fantastical happenings at that titular hour was heralded at the Cannes Film Festival as a return to form. Even people who won't go that far call it "charming". (In other words, it's probably as good as Vicky Cristina Barcelona).  Jodie Foster's third directorial effort THE BEAVER, about a mentally ill man (Mel Gibson — typecasting!) with a mouthy hand puppet expands into more cities. And SPORK (pictured left), a transgendered musical comedy which recently won Best Feature at the Miami Gay and Lesbian Film Festival, opens in West Hollywood with plans to expand to other cities soon.
Classic Hunks
If you're through with Jack Sparrow, perhaps a classic silver screen pirate will do on DVD.
Which will it be: swarthy Tyrone Power, acrobatic Burt Lancaster or dashing Errol Flynn?