Rhode Island's House has passed a civil union bill by a vote of 62-11, the AP reports: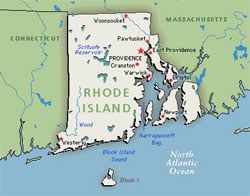 Lawmakers voted 62-11 Thursday to endorse the bill, which now moves to the Senate. The proposal would allow gay couples to enter into civil unions granting all of the state rights given to married couples under Rhode Island law…
Senate President Teresa Paiva Weed has predicted that civil unions will win broad support in her chamber. Gov. Lincoln Chafee, an independent, has said he would sign the measure.
The civil union bill was introduced as a compromise after openly gay House Speaker Gordon Fox didn't feel a marriage equality bill had the votes to pass. Fox has taken heat from some LGBT advocates for his decision.