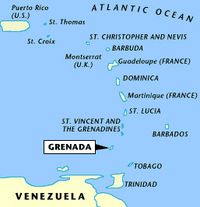 A 41-year-old man has been arrested by police and charged under the country's sodomy laws after having consensual gay sex with a 17-year-old, the AP reports:
The age of sexual consent in Grenada is 16 but while the sex in question was consensual, local law prohibits sodomy under the charge of "unnatural connection."
Grenada is one of several Caribbean nations that has laws banning sex between men. The penalty in most islands, including Grenada, is up to 10 years in prison, although Barbados and Guyana have life imprisonment, according to a 2010 United Nations report.