Activists angry at House Speaker Gordon Fox's decision to drop marriage equality legislation and the shift the focus to civil unions rallied outside the Rhode Island state house yesterday, the Providence Journal reports: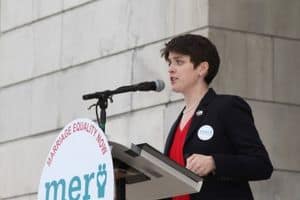 Gay marriages supporters were nonetheless displeased with what they saw as a sign of betrayal and political cowardice.
"This legislation codifies the idea that lesbian and gay families can be treated differently," said Martha Holt, chair of Marriage Equality Rhode Island (MERI), which organized the event.
"Separate is never equal, we are not second class citizens and we demand to be treated equally," Holt declared. She concluded by making a call for continued political activism, asserting that "MERI isn't going anywhere," and that they plan to organize "in every district and county of this state," until the next election cycle comes around.
In a letter to colleagues, Fox said the decision was one of pragmatism.
Despite the protests, a civil unions bill was introduced on Tuesday by Rep. Peter J. Petrarca:
Calling his bill an important first step, the Lincoln Democrat said the legislation — while falling short of legalized same-sex marriage — would give same-sex couples the same rights that married couples now have under Rhode Island law.
"Some sort of progress is better than nothing," he said just minutes before the House session got under way.
Watch a reports from ABC6, AFTER THE JUMP…