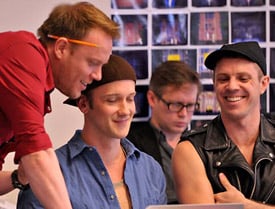 The NYT today posted a big story on the new musical based on Armistead Maupin's Tales of the City and its collaborating creative team of director Jason Moore, librettist Jeff Whitty, and composers John Garden and Jake Shears:
The result of that five-year collaboration will make its debut in — where else? — San Francisco this month as a $2.5 million production that includes a company of 21 actors, nearly four dozen characters, at least two pairs of knee-high patent-leather go-go boots and more than 200 other costumes. (And God knows how much polyester.)
It's the most expensive show ever produced by the American Conservatory Theater, whose schedule usually mixes classical revivals with more experimental pieces. Single-handedly producing new musicals isn't typically part of its programming, but Carey Perloff, the theater's artistic director, said that "Tales of the City" fit both the company's mission of doing work about the Bay Area as well as providing a low-pressure environment for creators.
"It's a nontraditional kind of piece — lots of characters, lots of story lines, lots of sex and drugs — and I think we fit what they were looking for," said Ms. Perloff. "This isn't a particularly 'Broadway' audience. This audience is very game for unusual musicals."
Previews start May 18, and the show opens on May 31.