Molly Wei, one of the two Rutgers University students facing charges in the Tyler Clementi case, could have her criminal record erased as long as she agrees to terms reached in plea bargain yesterday.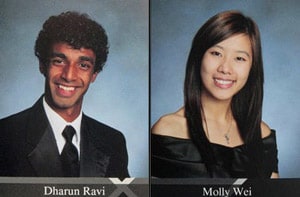 ABC News reports on the terms of her plea deal:
"In exchange for help in the prosecution of a fellow student, Dharun Ravi, Wei agreed in court today to join an intervention program that requires her to perform 300 hours of community service over the next three years and undergo counseling for cyberbullying."
Clementi's parents issued a statement: "Actions have consequences. We wish that Ms. Wei will become a person who will make better decisions, will help people, and show kindness to those she comes in contact with."
According to the New York Times, Clementi's parents approved of the lighter punishment for Wei, but not for Ravi:
"They said they favored harsher treatment for their son's roommate, Dharun Ravi, who has been charged with streaming live images of Mr. Clementi's intimate encounter with another man from a computer in Ms. Wei's dormitory room in September."
Ravi, who was handed a 15-count grand jury indictment last month, faces 5 to ten years in prison. He'll be arraigned later on May 23.