Jim Burroway at Box Turtle Bulletin reports that a BBC Network Africa segment discusses the agenda for the upcoming parliament in Uganda: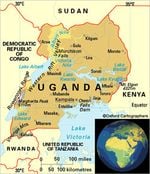 The 9th Parliament has inherited three controversial bills that form part of its deliberations. They include the Anti-Homosexuality Bill which was shoved at the eleventh hour of the 8th Parliament, the Marriage and Divorce Bill which, among other things, would criminalize marital rape, widow inheritance [sic], in addition to providing for women's property rights and rights to negotiate sex including seeking divorce on grounds of the man's impotence or the size of their sexual organ. Another controversial bill is the one that seeks to enact more stringent laws for the media.
You may recall that last week the parliament adjourned before taking any action on the bill.