The jazz choir at Wasilla High School (yes, that Wasilla) in Alaska was told last week that they couldn't sing Queen's "Bohemian Rhapsody" at the high school graduation. The reason?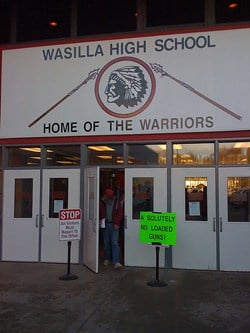 WHS Principal Dwight Probasco reportedly had received complaints from at least one parent that the 1975 hit written by Freddie Mercury wasn't appropriate for the ceremony simply because Mercury was gay.
"The whole thing was just ridiculous," senior Rachel Clark said Monday. "They'd played the song on the school intercom and we played it at prom. It's a great song and the choir was really excited to be singing it. And the senior class felt like it defined them." Choir member Casey Hight, a junior, was angry enough to contact a gay and lesbian support organization in Anchorage for help. They told her to contact an attorney at the American Civil Liberties Union.
Probasco, who Gawker notes is a dead ringer for Elton John, has now decided to allow the song to be played because he is afraid of the ACLU, as he should be. The choir won't be able to sing one lyric about killing a man, however.
(the frontiersman via gawker, image via adm on flickr)