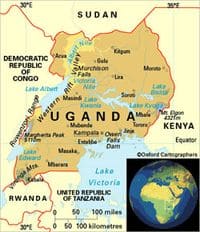 The Ugandan parliament has adjourned for this session with no action on the controversial and condemned Anti-Homosexuality bill, aka the "Kill the Gays" Bill.
The AP: "The bill had been scheduled for debate Friday, but parliament adjourned without taking up the measure. Speaker of Parliament Edward Ssekandi Kiwanuk said there is no time to take up the bill this session. He adjourned the parliament and set no date for parliament to return to session."
AFP adds: "'I am adjourning this house ….,' speaker Edward Ssekandi told parliament. Lawmakers and gay rights activists said that meant the bill had been effectively killed off for this parliament as Friday is the last day for parliamentary debates."
The bill had attracted much attention from foreign governments in recent days. Yesterday, Human Rights Watch noted that Ugandan parliament's Legal and Parliamentary Affairs Committee had recommended passage of the bill, which received condemnation from the U.S. State Department.
Don't count on it being gone forever.