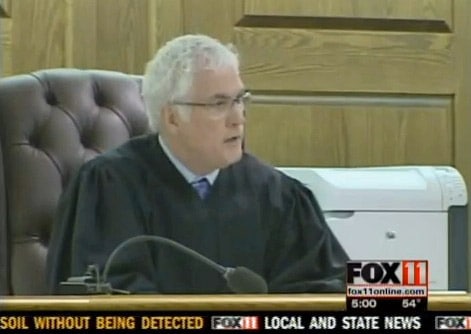 Waupaca County, Wisconsin Judge Philip Kirk, who sentenced a man to prison for child molestation on Monday morning, is getting some attention for the bizarre pre-sentencing remarks he made in the courtroom, challenging the accused man's claims that he is a heterosexual.
Said Kirk:
"I think you were born gayer than a sweet-smelling jockstrap."
"I think that if anyone believes that in the last 10 years or 15 years all of a sudden you developed an interest in homosexuality and young boys, then I must have looked ravishing in my prom dress this year."
"I can't imagine in the '40s or '50s admitting your sexual orientation. No one knew there was a closet to come out of in those days. You know you had to be very careful because you could have found your penis floating in the Wolf (River) as walleye bait. It was a terrible life to have to live."
Watch, AFTER THE JUMP…
Equality Matters responds: "It's highly disturbing to hear a judge, who openly admits he relies on his 'own experience' when sentencing defendants, reinforce one of the most cherished smears of anti-gay groups. The link between homosexuality and pedophilia is, of course, patently false."
(via gawker)
Judge challenges Gorges' sexuality: fox11online.com