Wisconsin Governor Scott Walker, in agreement with anti-gay group Wisconsin Family Action, has filed a motion asking a judge to allow the state to withdraw from defending the state's domestic partner law because he believes it violates the constitution which says marriage is between a man and a woman.
The AP reports: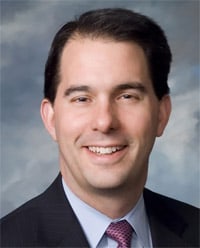 Members of the conservative group Wisconsin Family Action filed a lawsuit last summer arguing the registry violates the state's constitutional ban on gay marriage. Former Gov. Jim Doyle, a Democrat who proposed the registry as a means of granting same-sex couples more legal rights, chose to defend the measure and had filed a motion asking Dane County Circuit Judge Daniel Moeser for summary judgment upholding it. Walker, a Republican, inherited the case from Doyle when he took office in January.
…The governor pointed to a legal opinion Republican Attorney General J.B. Van Hollen issued two years ago that concluded the registry was indeed unconstitutional because it mimics marriage.
Said Katie Belanger, executive of Fair Wisconsin, which has joined the case as an intervener and will continue to defend the domestic partner law, to the Capital Times: 
"While we're disappointed that Gov. Walker has decided not to defend critical protections for same-sex couples, including hospital visitation and family medical leave, this is exactly why we felt it was so important for Fair Wisconsin and Lambda Legal to intervene in this case. We are still committed to defending this legislation and are confident the legislation is constitutional."
It's not clear when Moeser would rule on the motion.