A coalition of LGBT advocacy groups has filed a brief urging the U.S. District Court not to vacate last year ruling by Judge Vaughn Walker overturning Proposition 8.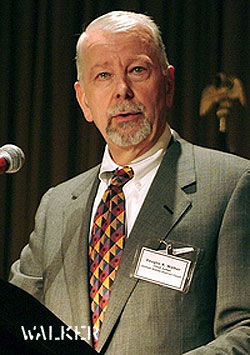 Writes Lambda Legal in a press release:
Lambda Legal, the National Center for Lesbian Rights, the ACLU of Northern California and Equality California filed the friend-of-the-court brief in Perry v. Brown in response to a motion filed last month by supporters of Proposition 8 that asked the court to undo last year's decision in that case. The Prop 8 supporters contend that now-retired Chief Judge Vaughn Walker should have declined to hear the case because he was in a long-term relationship with another man, and that the judge's 135-page decision, which followed a three-week trial, should be invalidated for that reason.
The brief filed by the groups argues that the Prop 8 supporters' motion closely parallels long-discredited historical attempts to disqualify judges based on their race, sex or religion. The groups contend that the Prop 8 supporters' argument boils down to the notion that essentially no gay, lesbian or bisexual judge could impartially preside over a case involving the rights of same-sex couples — an offensive suggestion that has been consistently rejected by the courts in similar cases involving race and sex discrimination.
"This stinks of desperation on the part of Prop 8 supporters," said Jon Davidson, Legal Director of Lambda Legal. "Everyone has constitutional rights, so cases that raise constitutional issues routinely affect the public at large, including judges. But that's no basis for recusal, here or in any case. A female judge has no duty to recuse herself from hearing a case involving women's right to vote, even if she wanted to vote. It would be absurd if, in order to rule on discrimination claims, judges would need to practice discrimination themselves. And the notion that being in a same-sex relationship renders a judge unable to interpret the law and uphold the sworn duty to rule impartially is insulting to both judges and America's system of justice."
Governor Jerry Brown's attorneys filed papers yesterday accusing Prop 8 proponents of engaging in a "witch hunt" against Walker.
Read the brief filed today, AFTER THE JUMP…
Perry CA 20110513 Amici Lambda Legal Lgbt Legal Groups Opposing Motion to Vacate Judgment