Gay City News notes the tight timeline for marriage equality in New York. June 20 is the Senate's scheduled adjournment. GCN reports that advocates tell them they are pushing forward on a "unified front".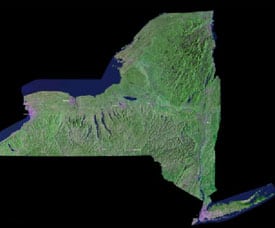 Paul Schindler reports:
That is all for the good, since the gay and lesbian community is going to need every bit of unity, determination, savvy, and perhaps a measure of luck if the job is to get done.
With 32 votes needed for passage in the Senate, where Republicans hold a narrow 32-30 majority, the tally of public supporters of the bill stands at 26.
A source with direct knowledge of the effort being waged from Cuomo's office said the feeling there is that "the path to success" involves everybody "staying organized and focused, and not going off on tangents."
That individual hastened to add there is "a full-court press coming out of the highest levels on the second floor," the location of the governor's executive offices in the State Capitol.
Yesterday, more lobbying went on at the state capitol.
In Albany Tuesday, members of 1199 SEIU United Hospital Workers lobbied fence-setting legislators on the issue.
"We're meeting with several Democratic senators who voted no last year and we're meeting with several Republican senators, including Senator Skelos about coming on board this year," said SEIU Political Director Kevin Finnegan.
And the union's president is a leader in what in many ways is the political mirror of the Conservative Party, the Working Families Party, a left-leaning union-backed organization.

And individual Senators are being protested. The L Magazine reports on a demonstration that took place this week in front of Senator Marty Golden's office:
More than 100 people gathered in a free-speech zone across the street from state senator Marty Golden's Fifth Avenue office yesterday evening to protest his position on gay marriage. Golden not only doesn't support the marriage-equality momentum moving through Albany, but he has also positioned himself as a leader in the fight against it, going so far as to introduce legislation that would end New York's policy of recognizing gay marriages from other states, even though support for gay marriage among residents of New York state is at all-time highs.
The rally, co-sponsored by a slew of progressive and reformist Brooklyn Democratic groups, attracted many local lefty leaders, including Park Slope's councilman, Brad Lander, former Golden opponent Mike DiSanto, and district leaders Joanne Seminara, Chris Owens, and Lincoln Restler.
New Yorkers, now is the time to call your Senators if you haven't already done so, particularly those of you who live in the Hudson Valley or Long Island, where I hear pressure could sway some lawmakers.
Contact your NY Senator using my Friend-setter page at Friendfactor. Or use the contact information here. Your Senator needs to hear from you.