Buju Banton, who was found guilty of conspiracy to possess with intent to distribute five or more kilogrammes of cocaine, of possession of a firearm in furtherance of a drug-trafficking offence and using the wires to facilitate a drug-trafficking offence in February, has been sentenced, the Jamaica Gleaner reports: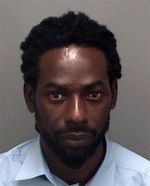 Buju Banton, real name Mark Myrie, has been sentenced to ten years in a maximum security prison. Grammy-winning reggae superstar, Buju Banton has been sentenced to 10 years in the Florida District Court in the United States this morning. 
US District Judge, James Moody imposed the sentence when Buju, whose real name is Mark Myrie, appeared in a Tampa Federal Courtroom this morning. 
Ten years was the minimum sentence. He faced 15 years to life, according to the St. Petersburg Times.
The anti-gay controversy surrounding Banton stems primarily from a song called "Boom Boom Bye" in which he sings about shooting gay men in the head, pouring acid on them and burning them alive.