Brown Coffee responds to the firestorm surrounding its homophobic tweet (background here if you missed it) posted shortly after the marriage equality victory in NYC.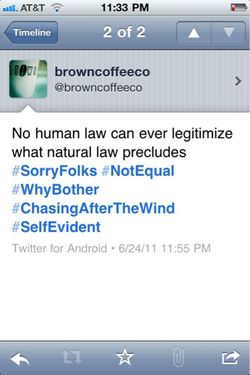 Writes the company on its blog:
Recently, a Twitter post that was made via our company's Twitter account has exploded into something it was never meant to be and we want to correct the record.  In the post, it mentioned the differences between Natural Law and Human Law and mentioned that they were different and unequal.  This was a post about CLASSICAL PHILOSOPHY and LAWS (a la Plato, Aristotle, Aquinas, etc.), not PEOPLE; but somehow people began to twist what was written and added their own lies to the post to mean that somehow we at The Brown Coffee Company are hateful, homophobic, intolerant people.  Those are not the facts and we regret that this has descended into something very ugly based on other people's incorrect reading of the Twitter post.  People have begun to attack our friends and business associates based on these incorrect lies and not based on the facts themselves.  Other Twitter posts from others began to crop up ascribing words, thoughts and intentions to us and what we said that were NEVER said.
Again, we have been viciously maligned for something we never said.
We at the Brown Coffee Co have never (ever) advocated for intolerance, hatred, bigotry or exclusion of any person, anywhere and positively believe there is no place for such thinking in our society.  WE ABSOLUTELY REJECT THE LIES PEOPLE HAVE SAID ABOUT US AND THIS TWITTER POST.
Yeah, because that kind of language is never used about gays and same-sex marriage.
Previously…
NYC Cafe Dumps Brown Coffee After Company's Homophobic Tweet [tr]