The Chicago Cubs will produce an "It Gets Better" video, the organization announced today: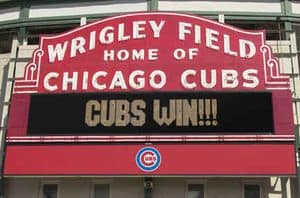 The project has been in the works for more than a week and is set to be filmed after the team returns to Wrigley Field from its current 10-game road trip.
The Cubs will be the second professional sports team to participate in the "It Gets Better" campaign following the San Francisco Giants who released their video earlier this week.
"The Cubs applaud the Giants for their stand against anti-LGBT bullying. Bullying of anyone for any reason is unacceptable," said Laura Ricketts, Cubs owner and board member. "We are proud to join the Giants in taking a stand against bullying and encourage other professional sports organizations to do the same."
You may recall that in late 2009, Ricketts, an out lesbian, became the first openly gay individual owner of a major league baseball team when her family bought the Cubs.
The San Francisco Giants released pro sports' first 'It Gets Better' video earlier this week.