Can't you read? The dog doesn't speak. He just thinks in subtitles.
The dog's thoughts are one of the film's funniest twee flourishes. (If you need your films more literal, you can always assume its meant as satirical jab at our anthropomorphic projections on our furry friends.)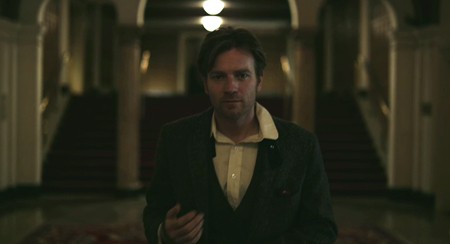 There will undoubtedly be viewers who don't respond to Beginners particular brand of whimsy, which encompasses everything from Oliver's cute but poignant illustrations, to the dog subtitling, to scrapbook like history lessons, to the "meet cute" tropes of romantic comedies (there's a costume party scene). But what romance has ever been completely rational? The movie's amorphous hazy quality as it drifts dreamily from scene to scene and past to present on't be for everyone either. But if you're open to its melancholy playfulness or moved by its father-son story, it'll play like cherished embellished memories of love in many forms (straight, gay, platonic, familial).
There's a wonderful moment late in the film when Oliver and his new girlfriend Anna (Mélanie Laurent from Inglourious Basterds) are looking at a rather revealing personal ad that Hal had written. There's no ageist or homophobic rejection of this overt reminder of his libido, just a beat of genuine curiosity from the straight son and an admiring summation from the young woman, 'He never gave up.' The film is like that, too, continually willing to put its heart on the line.
Also Opening
 X-MEN FIRST CLASS teleports the mutant franchise back in time to chart the beginnings of the X-Men mythology and the sexy rivalry between Xavier (James McAvoy taking the reins from Patrick Stewart) and the dangerously alluring Magneto (awesome Michael Fassbender steps in for Sir Ian McKellen); Maria Bello and Michael Sheen try to deal with the fact that their BEAUTIFUL BOY is a mass murderer; Brit indie SUBMARINE charts the relationship between a lonely teenage boy and his dark-tempered bully of a girlfriend with period style and biting comedy. Give it bonus points for its amusing thorny love triangle between the bored marrieds Sally Hawkins & Noah Taylor and their neighbor Paddy Considine, just hilarious as an oversexed new age guru.